We are delighted to have you visit our web site. We would be even more delighted to have you visit us for worship services on any Sunday morning! Are you looking for the love of the Lord? We love the Lord and we love visitors! If you drop in on us you will find out for yourself why Parkway is known throughout the area as a friendly and loving church.
Whether you live in the Sacramento area or are just visiting, get your love on and visit the Parkway church of Christ. Come and raise your voice in song along with us as we give glory and honor and praise and thanksgiving to God. You'll find there's a spring in your spiritual step when you leave.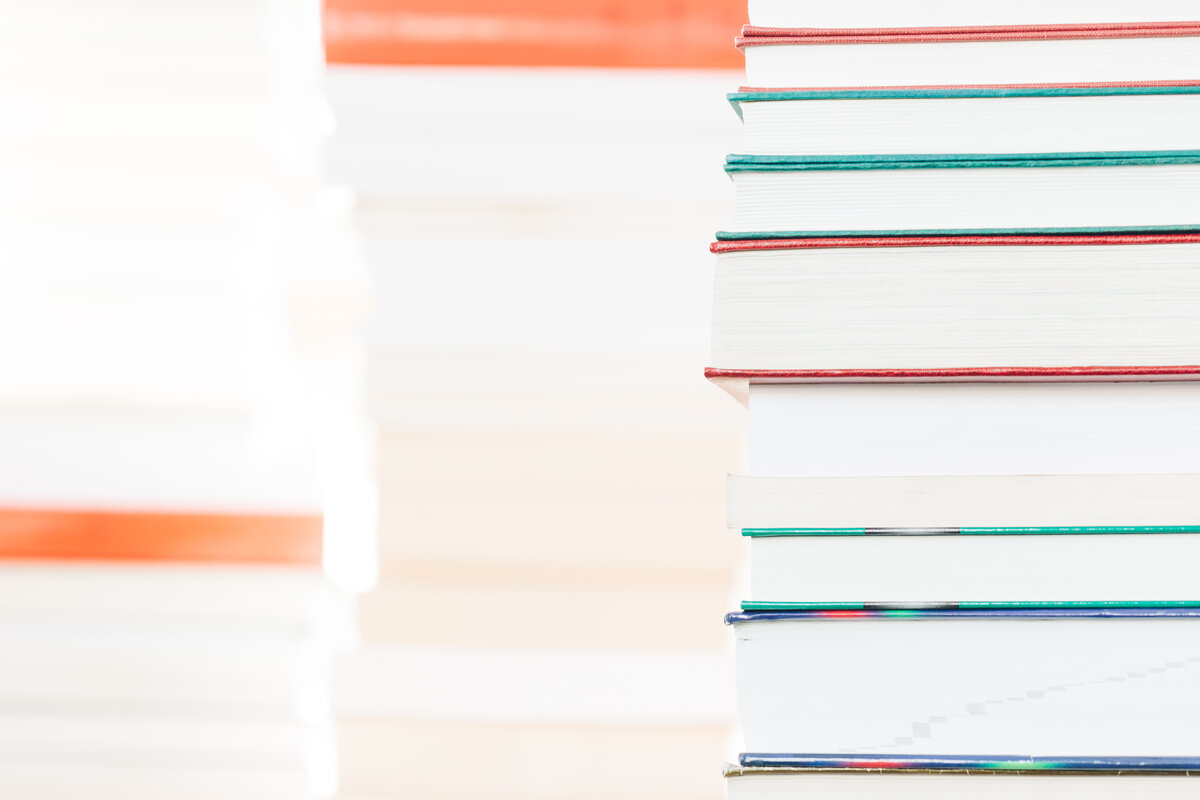 Weekly Services
Sunday School (In-Person/Zoom Online)
Worship Services in English (In Person & Live-Stream)
En Espanol Domingo - Culto de Adoracion
Back by Popular Demand | Sunday School | Starting Sunday March 20th, 2022
All Children's and Youth classes will be back in full swing starting Sunday, March 20, at 9:30 a.m. Take the time to walk your child to their class and meet their new teacher. Let's all pray for a successful launch!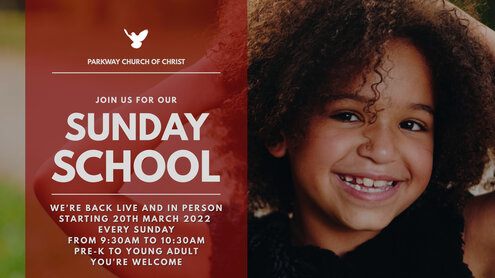 Kindred Closet Purge Fellowship - Saturday June 25th - 11am-1pm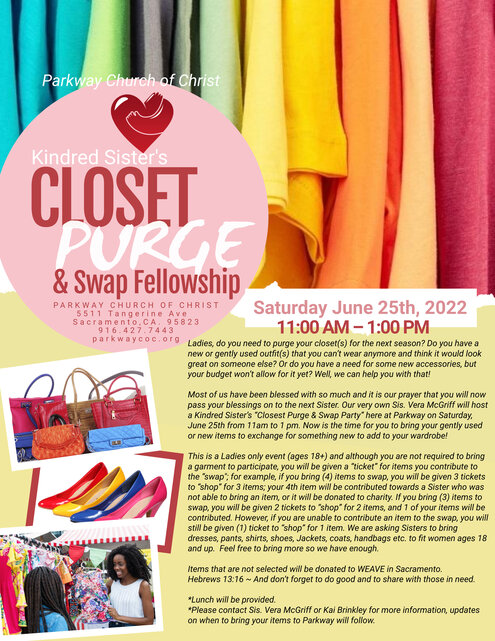 Get the full experience with sermon notes, church bulletins, and live chat at Faithlife.com
Yosemite Bible Camp - First Session June 11-18, 2022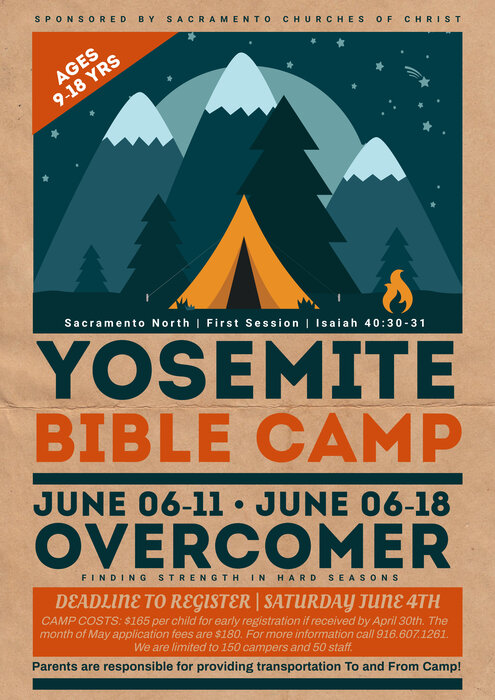 Yosemite Bible Camp | Sacramento North Area - First Session - | June 11-18th, 2022
Overcomer - Finding strength in Hard Seasons
Sponsored by Sacramento Area Churches of Christ
Camp Costs: $165 per child for early registration if we receive your application by April 30th. The month of May application fees are $180, and if you have more than one child in your immediate family enrolling for camp, the second and any other child will pay a fee of $165. After May 31st the camp fee will be $250.
The deadline to register is Saturday June 4th. Applications received after June 4th will be considered on a case by case basis the fee will increase to $250. All applications and camp fees are due by June 5th or special arrangements need to be made.
Send a check and this completed for to the attached form. Cancellations by May 31st may have a deposit returned. Make checks payable to Church of Christ. For more information: Call 916.607.1261.
A camper must be at least 9 years old and no older than 18 (approximately grades 3-12). We are limited to 150 campers and 50 staff. If you are interested in providing transportation or being a camp counselor, please contact the above phone number. Parents are responsible for providing transportation TO and FROM camp!
Men's Prayer - Once a Month on the 3rd Saturday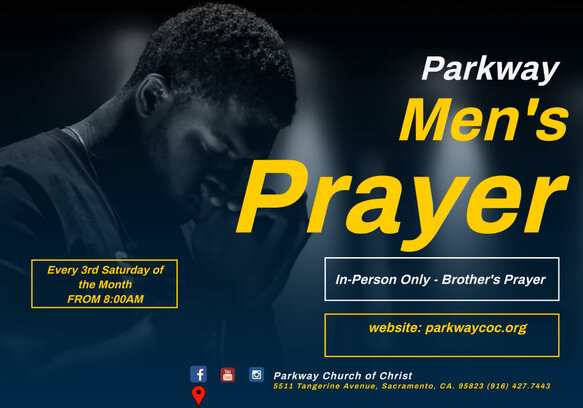 2021 Coats for Kids Outreach Event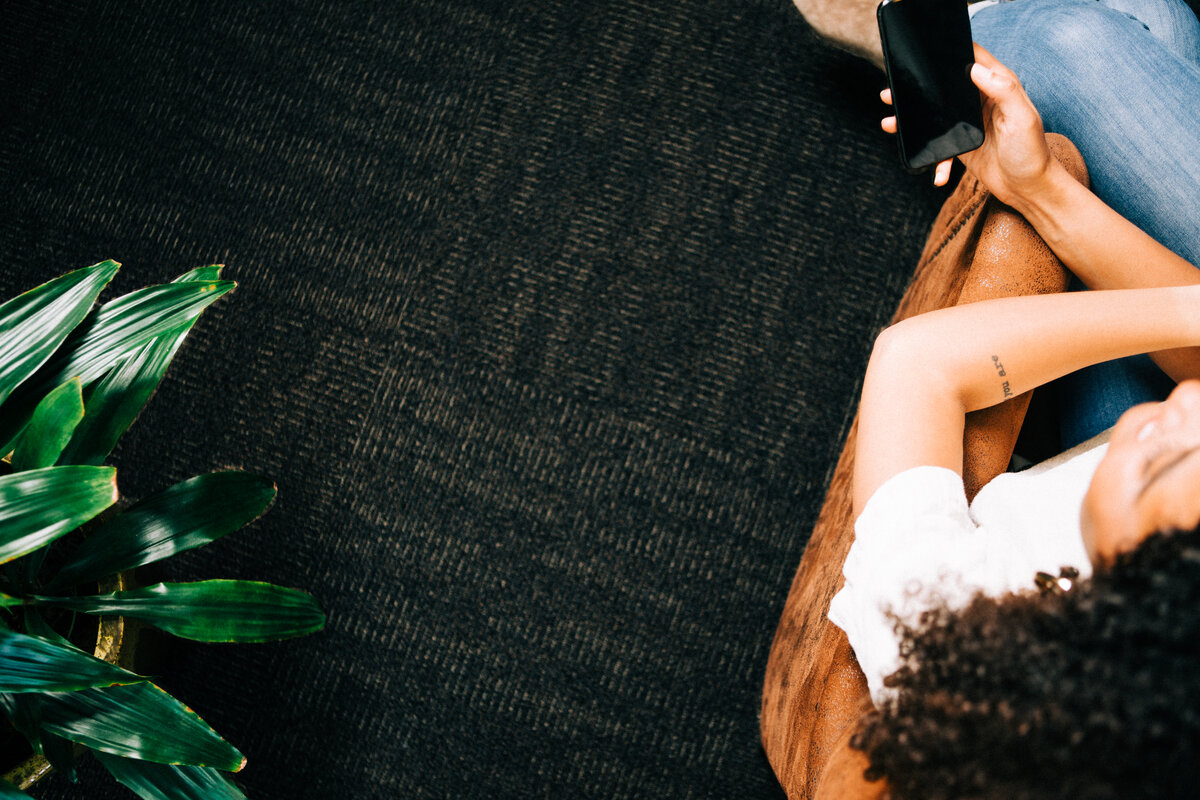 COVID Protocols
Wear masks at your own discretion.
THANK YOU FOR YOUR COOPERATION.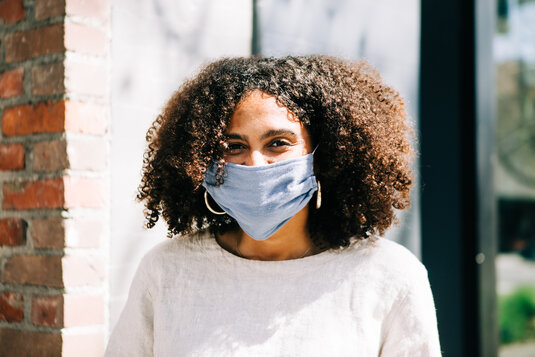 Ladies Zoom Bible Study Every 3rd Saturday of the Month
Ladies, join your sisters in a Bibles Study on Zoom every 3rd Saturday of each month at 9 a.m. The Meeting ID is 867 8689 7177 and the passcode is Bible.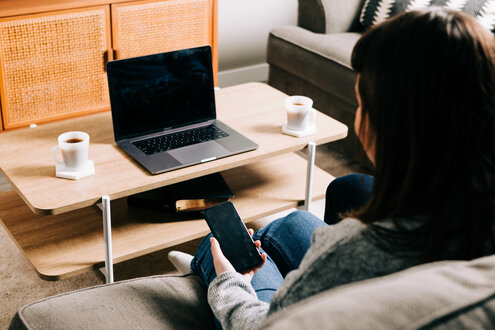 New Class/New Night - Bible Series "In the Meantime"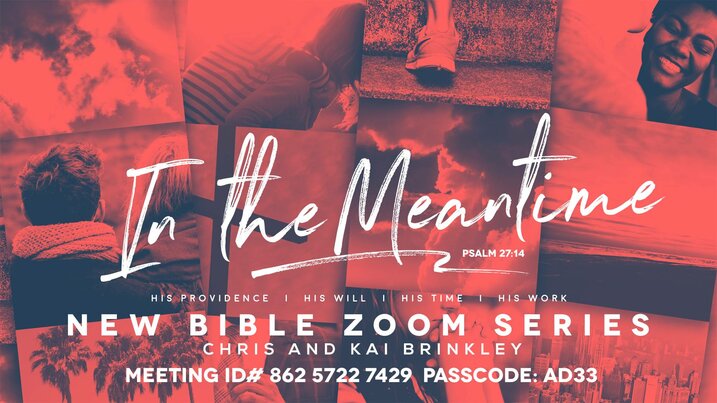 In the Meantime
As we reflect on the year 2021, there's so much we have to be thankful for; this year has brought about many changes, and therefore adjustments had to be made and many lessons were learned. There were numerous gains, some losses too, and yet the Lord kept us through it all!
We're well aware that going into 2022, many of us will make "tentative plans" to do something because we all have a longing in our heart for something… this drive is part of our human condition. Many of us will make plans to begin or end a job, begin or finish school, travel, start a family, relocate, or improve our mental, physical, financial, or spiritual condition; there's certainly nothing wrong with this, however, if we are mature in our faith, we would be wise to approach the Lord first with our desires and pray, "Lord, if it is your will"…
Even so, with all of our tentative plans and hopes for the future, a few common questions always seems to arise... "How do I know if God wants me to go right or left?" "How will I recognize His answer? "What do I do in the meantime? The short and long answer to these questions will always: 1. be found in God's word 2. look different for everyone and 3. be answered according to God's will. Always remember, God works in the unseen areas of our lives for His purpose and glory.
Join us in the year 2022 on Thursday evenings at 7pm PST as we discuss God's will and providence for your life, and what to do while you wait for the phone call, the finances, the test results, the job, the relationship etc. In the Meantime (Psalm 27:14, Romans 8:28)
Zoom Meeting ID: 862 5722 7429
Passcode: AD33
Feel free to Dial-in by your location:
+1 669 900 9128 US (San Jose)
Meeting ID: 862 5722 7429
Passcode: 419280
God Bless,
~ Chris & Kai Brinkley
PARKWAY SUPPORTS MISSIONS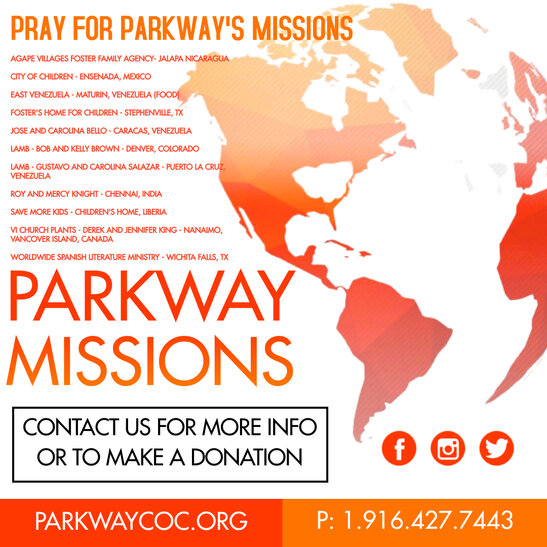 2021 Kindred Sister's Fellowship Activity - Kintsugi Kits